22 April 2015
Should You Hire A Man With A Van?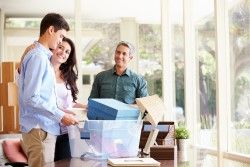 With so many removal services available for your moving day, choosing the right one for you isn't always easy. One of the most popular services offered by removals companies is their man with van services, which provide you with not only a mover, but with a vehicle too. If you're unsure about which removal service is right for you, and if you're considering hiring a man and van, here are some ideas to help you with your decision.
1) Do you need help with heavy lifting?
One of the most difficult parts of moving day is handling heavy goods. From furniture to your television, you probably have a lot of items that you won't want to handle without care and attention. If you have any worries or concerns over your cumbersome belongings then hiring movers is a great way to combat this. Experienced moving teams will be able to easily lift and carry items that you might not be able to move on your own, and loading them into the van will be just as simple.
2) Do you have a removals van?
If you don't have a suitable vehicle for your relocation then you might find it takes much longer than expected to get everything to your new property. Your car won't be able to hold as many goods as a van would, and you might have to compromise on the safety and security of your fragile goods if you're trying to squeeze them into a space that's too small. Not only will a van solve this problem, but will also enable you to move your furniture without worry!
3) Do you have moving experience?
If you've never relocated to a new home before then you might have some concerns or worries about moving day. A professional removal company can put a stop to this, as they'd be able to offer support and advice to keep you calm, as well as providing their practical help. If you have queries about your move, then hiring an expert is an excellent step to a successful moving day.
4) What kind of items are you moving?
Fragile goods, heavy furniture, expensive equipment and other such items can all pose a problem if they're moved without the proper care and attention. These are the items that are most likely to break, or that are going to be costly to repair, but hiring a man with van service could help to keep them safe. Your mover would have invaluable experience and knowledge when it came to careful lifting, van loading and more, which could help to keep your items safe and free from damage during transit.
5) Are you moving in a strict timeframe?
Hiring the help of professional removal services is a great way to ensure that your move is completed in a quick and timely fashion. If you have to move in a hurry, perhaps for work or other reasons, then having an expert to help you could save you hours of time. If you want to ensure that you're sticking to your moving checklist as best as possible, then hiring a professional service is the best way to do this.
6) Choosing your man and a van.
Make sure you hire a reputable service by asking friends and family for company recommendations. If you're hiring online, check the website for customer reviews and comments, so that you can be sure you're getting the best service possible.